Petter Carlsen is an artist I got into through Anathema. He was opening for them and I checked out his music briefly. I eventually missed his very early gig. This is something I've come to regret, because Petter is a masterful songwriter. "Sirens" is his third album and probably my least favorite. Not because it's not good though. It's just due to the three others album being more awesome.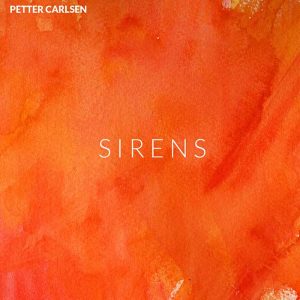 Where to start? Well, Petter is a Norwegian indie singer/songwriter type artist with an angelic voice and a genuine expression. His songs are have a personal feel and great melodies. Some of them have a bit of a driving rock presence, but it never becomes anywhere near being heavy music.
"Sirens" lack most of this driving rock presence. He often utilizes a higher, light register reminiscent of Damien Rice. The songwriting on here is solid, but the lack of that driving dynamic mostly keeps the music in the same pace throughout the record. I miss the instrumental punch and staying power of earlier songs like "Built to Last".
Petter's vocals shine as usual
What's not missing are the gorgeous vocal lines. There are many times where melody and words grow into absolute magic. "Sirens", "From the Outside" and "Days Like These" all fall into this category. The line "It's days like these/that saves me from indifference" gets me every time.
"Sirens" is more an album's album than one where single songs stand out though. There no obvious hits like "Pull the Brakes" or "Spirits in Need". It had made it quite the grower. While it's still easily Petter Carlsen's least dynamic release, I've really grown to like it.

Sound production on "Sirens"
The production sound is ethereal and broad in a similar way to new era of Anathema. It brings out the best of his clean guitar landscapes and expressive voice. Vocally, Petter's crystal clear delivery is the highlight of all the songs. I do find myself prefering his standard tone over the high tone he uses a lot on "Sirens", though.
Petter Carlsen's big selling point for me is still his profound expression. His music feels exceptionally genuine. It never gets pretentious, despite that there are some pretty big words in there at times. Artists who give me that feeling are truly rare.
In many ways, "Sirens" leads the way to what was coming on 2017's "Glimt". The successor switches to his native Norwegian language and applies more contemporary songwriting. I would start out my Petter Carlsen journey with one of the first two albums, but that's no excuse to miss out on "Sirens".
Read more:
"Glimt" review ->
10 best Anathema songs ->
Other reviews ->
Music articles ->
Soliloquium, Swedish doom metal (Bandcamp) ->
More about Petter Carlsen: