My death metal from 2017 post got some solid attention, so I figured I'd start a blog post for this year's output as well. 2018 hasn't been the best year for death metal, but some fairly solid stuff has still gotten out. Please comment if I've missed out on any cool albums. Don't miss the death/doom from 2018 post if you're looking for death metal music in the slower variety!
If you don't have time to check out all these death metal bands, at least hit up these mandatory releases:
Demonical – Chaos Manifesto
Supreme Carnage – Morbid Ways to Die
The Crown – Cobra Speed Venom
---
Atavisma – The Chthonic Rituals
Apocalyptic and murky in the vein of Incantation and Dead Congregation. Not my favorite style, but it's quality death metal none the less.
---
Baest – Danse Macabre
A very entertaining dose of Danish old school death metal. Fairly unoriginal but the riffs, hooks and guitar tune makes it worthwhile.
---
Bloodbath – The Arrow of Satan is Drawn
I'm not super impressed by the new song "Bloodicide", but I bet Bloodbath's album will be good enough to get on here anyway once it comes out on October 26th.
---
Burial Invocation – Abiogenesis
Another masterclass in dark Turkish death metal. The debut album is not as fantastic as 2010 EP "Rituals of The Grotesque", but it's still a solid death metal album.
---
Deicide – Overtures of Blasphemy.
Deicide's new album is surprisingly good. It's definitely due to the songwriting style; the songs are short, aggressive as hell and right to the point. This plays to the band's strengths.
---
Demonical – Chaos Manifesto

Meat and potates Swedish death metal for sure, but meat and potatoes can be good. This has a strong Dismember influence and some very catchy hooks.
---
Drawn and Quartered – The One Who Lurks
I've only spun this once so far. I found it another solid album of dark Immolation/Incantation-influenced death metal. Worth checking out for fans of those two bands.
---
Jungle Rot – Jungle Rot
Jungle Rot's self-titled album is the American version of meat and potatoes. This one is another piece of decent death metal in the same style Jungle Rot has always played. It's death metal at its most generic, but I still couldn't help nodding my head along to most of the songs.
---
Monstrosity – The Passage of Existence
"Spiritual Apocalypse" was one hell of a death metal album and "The Passage of Existence does its best to follow suit. Read my review to learn more what I think about it!
---
Runemagick – Evoked From Abysmal Sleep

I was surprised by this one. Veterans Runemagick seem very energized for such a long-running band. Expect slow death metal, almost equal parts death/doom.
---
Skeletal Remains – Devouring Mortality
Far from an original band, but extremely catchy. Plenty of grooves and Martin van Drunen-influenced vocal exercises. Worth checking out!
---
Supreme Carnage – Morbid Ways to Die

Unknown German band that delivers groovy death metal with big hooks. Really liked this album that sounds somewhere in between Swedish style death metal and Blood Red Throne.
---
Taphos – Come Ethereal Somberness
Murky and aggressive Danish death metal with a slight black metal influence. The base of the sound is somewhere in the between the Swedish death metal style and Incantation.
---
The Crown – Cobra Speed Venom

The Crown has returned to their traditional style after the two latest missteps. "Cobra Speed Venom" has the blastbeats, melodic death metal tendencies and hooks that we all know and love. Not a new "Deathrace King", but certainly up to par with "Possessed 13".
---
Am I missing out good death metal?
Are some quality 2018 death metal albums missing on the list? Please comment I'll check them out.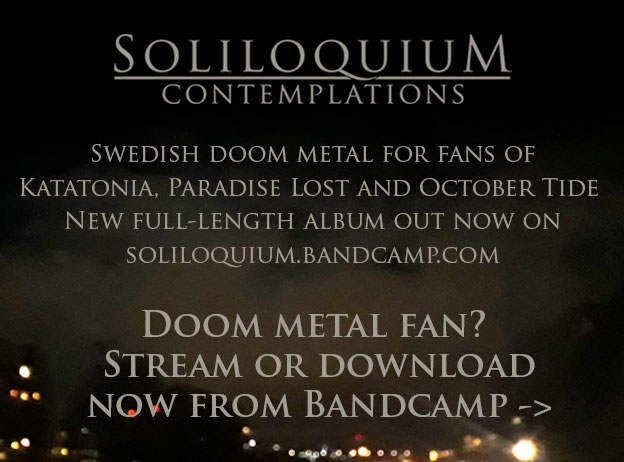 Read more:
Death metal from 2017 ->
50 best Swedish death metal bands ->
Death/doom metal from 2018 ->
Doom metal genre guide ->
Soliloquium, Swedish doom metal ->