Riverside is a Polish progressive metal band with a consistent discography, and this is my list of the 10 best Riverside songs. They have done many different types of songs, from long epics to aggressive ones and ballads. Quite a few of my choices come from the "Rapid Eye Movement" album, my favorite, but there are song highlights to be found on every Riverside disc.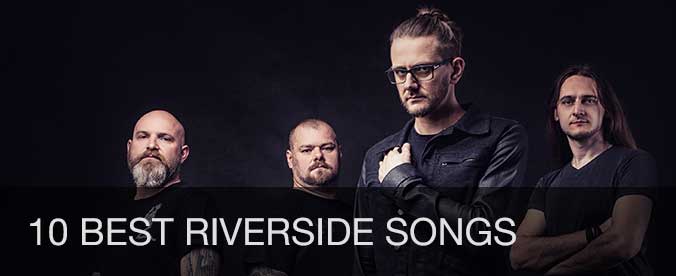 10. Beyond the Eyelids ("Rapid Eye Movement", 2007)
The "Rapid Eye Movement" opening track is a classic Riverside epic complete with dynamic shifts and melodies that weave together nicely.
9. Conceiving You ("Second Life Syndrome", 2005)
A piano-driven ballad with a longing mood. Quite standard in song structure, but the strong melodies Mariusz Duda's voice makes it a great one.
8. Loose Heart ("Out of Myself", 2003)
"Loose Heart" is one of my initial Riverside song favorites from back in 2005. Starts out as a mellow and mid-paced prog rock tune before exploding with bitterness.
7. Stuck Between ("Voices In My Head", 2005)
Showcases a mellow, almost triphop side of Riverside that really showcases Mariusz Duda's voice.
6. Artificial Smile ("Second Life Syndrome", 2005)
Unusually to the point and aggressive for a Riverside song, "Artificial Smile" even includes some screaming.

5. Schizophrenic Prayer ("Rapid Eye Movement", 2007)
Probably the trippiest song on this list, featuring some of Riverside's most out there instrumentation.
4. Out of Myself ("Out of Myself", 2003)
One of the songs that first got me into Riverside. It's an angsty progressive metal song with hypnotic repetition and strong dynamics. The phrase "voices in my head" was stuck on my head for weeks.
3. Egoist Hedonist ("Anno Domini High Definition", 2009)
Riverside really have no boundaries on the "Anno Domini High Definition" album, and it's never as clear as in this song. Mostly a classic Riverside prog metal bonanza, but the instrumentation is way more out there than usual.
2. Parasomnia ("Rapid Eye Movement", 2007)
A progressive metal epic with an extreme metal edge and great flow throughout the song. Easily has the quality to top a list of Riverside songs, if it wasn't for my number one. The way Riverside interwine the aggressive metal parts with the psychadelic parts is pure genius.
1. 02 Panic Room ("Rapid Eye Movement", 2007)
A hypnotic song with a recurring bassline that's simply fantastic. It also has great vocal lines that are as catchy as they are emotionally impactful. I've spun this song so many times, and it still never grows tired.
Read more:
"Love, Fear and the Time Machine" review ->
10 best Anathema songs ->
10 best Katatonia songs ->
10 best Pain of Salvation songs ->
30 best progressive metal bands ->
Lunatic Soul – "Fractured" review ->
Soliloquium, Swedish progressive doom metal ->