This is my list of the best doom metal bands. I know my exclusion of a lot of classic doom metal, like Black Sabbath, Pentagram, Saint Vitus and Trouble, will annoy some people, but my taste in doom is quite modern.
Expect a focus on death/doom metal, and multi-faceted bands like Amorphis and Katatonia. I hope my list of the best doom metal bands can help someone find a new favorite.
Amorphis
Amorphis is a hard band to define, since they've been playing around with most metal genres at one point or another. However, the band started out in the death metal and doom metal scene, soon incorporating Finnish folk, resulting in the legendary "Tales from the Thousand Lakes" album.
The new era of Amorphis is feature a contemporary genre mix that's hard to define, crowned by Tomi Joutsen's fantastic vocals. I've generally found that they appeal to most metal fans, except those who really need their metal to be evil and extreme all the time.
Anathema
Anathema was one of the legendary early English death/doom metal bands, together with My Dying Bride and Paradise Lost. If you like dark music, they're an absolutely essential band, because even some of their progressive rock material has a darkness most doom metal bands wish they had.
The new material can be hit-or-miss with the old fans, since they turned into light post rock. I like it, since I feel they haven't lost any of the original emotional impact from the early days.
Black Sabbath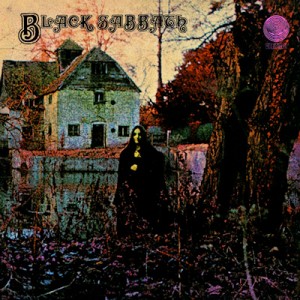 If you're really wondering what doom metal is about, it's mandatory to check out the first six or so Black Sabbath albums, as well as the Dio era. This is the foundation for doom metal, as well as many other styles of heavy metal.
Candlemass
Take early Black Sabbath, add more depression and distortion, and you get Candlemass debut "Epicus Doomicus Metallicus". For me, it's the ultimate classic doom metal album. Johan Langqvist's vocals and classics like "Solitude", "Under the Oak" and "Demon's Gate" makes it unforgettable.
Candlemass also made some great music with Messiah on vocals, as well as some solid comeback albums with Messiah and Robert Lowe from Solitude Aeturnus. Despite being unwilling to make a new full-length album, the band soldiers on live with Mats Levén on vocals. The album to start out with is the massive 1986 debut "Epicus Doomicus Metallicus".
Forgotten Tomb
I'm not crazy about black metal, certainly not suicidal black metal, but Forgotten Tomb really holds its own in the sub-genre. The debut "Songs to Leave" has an ice cold sound that is drenched in effects. It also has many memorable guitar melodies. Most of their other output is good too, even their latest black n' roll styled material.
Ghost Brigade
Ghost Brigade may be a hybrid of several genres like progressive metal, melodic death metal and sludge metal, but the doom metal blueprint is certainly there. At times they sound like a contemporary version of Neurosis, and other times like newer Katatonia. No matter which side, Ghost Brigade usually wrote great songs before going on their hiatus. Their first album remains the best, but it's still worth checking out all the material.
Katatonia
Katatonia is my all-time favorite band, and I'd say most of their music is dark enough to be under the vast doom metal umbrella. The band started out as a death/doom metal band, before switching to clean vocals in 1998. They've made quite a journey, starting out simplistic and growing into a technical, layered band with progressive tendencies. No matter the heaviness of the albums, they have their given place among the best doom metal bands.
Soliloquium

Not part of the best doom metal bands list, but my band Soliloquium are playing its own brand of progressive death/doom metal (main influences: Katatonia, Anathema, Paradise Lost) that should please some of the crowd reading this article. The full-length debut "An Empty Frame" was released in 2016, and you can download it or stream it from the Soliloquium Bandcamp page.
Paradise Lost
Paradise Lost is a legendary English doom metal band with one of the longest discographies in the genre. No matter if it's the death/doom from the early days, or the more contemporary mid-era material, the quality is usually high. The new material is a combination of the two, and culminated in "Beneath Broken Earth", a fantastic doom metal song you can listen to below. Don't forget to check out my top 10 Paradise Lost songs. I've also reviewed their 2017 album "Medusa" here on the site.
Rapture
Many bands tried to clone or develop Katatonia's "Brave Murder Day" album with varying levels of success. Rapture's take is probably my favorite. The band combines signature Katatonia 4/4 beats with hooks and melodies from contemporary Finnish metal, creating a sounds thats both catchy and melancholic at the same time. Rapture released three albums before silently disbanding into obscurity, and all three are excellent.
Slumber
Slumber is a death/doom metal band from the Stockholm suburbs that only put out one album; 2004's masterpiece "Fallout". This one of my absolute favorite albums, and one I will keep listening to forever. It's melodic, melancholic death/doom at its best, packed with both emotional and musical value. If you like the "Fallout" album, don't miss related projects like Enshine, Exgenesis, Atoma and Cold Insight.
Solitude Aeturnus
Solitude Aeturnus is probably my favorite band in classic doom metal, narrowly beating Candlemass. "Beyond the Crimson Horizon" and "Through the Darkest Hour" are particularly strong records, but you can't really make a wrong move in their discography. Robert Lowe has an unbeatable voice, and the quality of the riffs match it.
The Foreshadowing
A charismatic vocalist can make or break a band, and that's truly the case with The Foreshadowing. The Italian band plays a classy style of gothic doom metal. The songwriting is solid, the guitar layers are heavy, and the drumming is unusually creative for a doom metal band. However, Marco Benevento's vocals are out of this world. The band has released four quality albums, read my review of the latest one "Seven Heads Ten Horns" here on the site.
Read more about doom metal:
So, this was my list of the best doom metal bands.. but there is plenty more music content on this page.

10 best Amorphis songs ->
10 best Anathema songs ->
10 best Katatonia songs ->
10 best Paradise Lost songs ->
10 essential death doom metal albums ->
Best funeral doom metal bands ->